---
---
Wattage : 15 to 250 Watt
Input Voltage : 220 V AC
Frequency : 50 ~ 60 Hz.
Power Factor : >0.9
Led Luminous Eff. : >110 Lm/ Watt
Working Temp. : 30° ~ 50°C
Working Humidity : 10° ~ 90% RH
Working Life : > 50000 Hrs.
Body Material : Pressure Die Casted Aluminium
I.P. Rating : Ip65
Led Make : Havell's, Philips, Surya, Bajaj, Hallonix

---
Wattage : 30 to 250 watt
Usage/Application: Outdoor
Lighting Color: Cool White
IP Rating: IP66
Beam angle: 135 Degree
Input Voltage: 220 - 240 V AC
Luminous Flux: 100 lm /Watt
Frequency: 50 Hz
Body Material : Pressure Die Casted Aluminium
Led Make : Havell's, Philips, Surya, Bajaj, Hallonix

---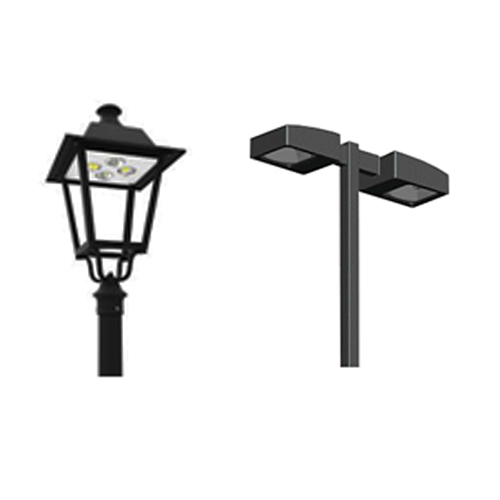 Wattage : 30 to 250 watt
Usage/Application: Outdoor
Lighting Color: Cool White
IP Rating: IP66
Input Voltage: 220 - 240 V AC
Luminous Flux: 100 lm /Watt
Frequency: 50 Hz
Body Material : Pressure Die Casted Aluminium
Led Make : Havell's, Philips, Surya, Bajaj, Hallonix
Lights Available With Pole & Without Pole
---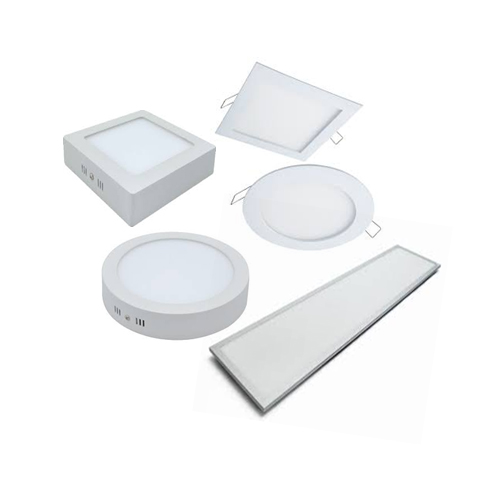 Wattage : 2 Watt to 36 watt
Luminous Flux : 100 lm /Watt
Lighting Color : Cool White/Warm White/Natural white
Frequency : 50 ~ 60 Hz.
Power Factor: >0.9
Working Life : > 50000 Hrs.
Model : Round / Square
Model : Surface & Square
Led Make : Havell's, Philips, Surya, Bajaj, Hallonix

---
Wattage : 2.7 Watt To 85 Watt
Holder Base : B-22, E-27, E-14
Colour : Cool Day, Warm white
Luminous Flux : 100 lm /Watt
Frequency : 50 ~ 60 Hz.
Power Factor : >0.9
Working Life : > 50000 Hrs.
Led Make : Havell's, Philips, Surya, Bajaj, Hallonix

---
Wattage : 50 to 250 Watt
Input Voltage : 220 V AC
Frequency : 50 ~ 60 Hz.
Power Factor : >0.9
Beam Angle : 45 -90
Power Eff. : >85%
Led Luminous Eff. : >110 Lm/ Watt
Working Temp. : 30° ~ 50°C
Working Humidity : 10° ~ 90% RH
Working Life : > 50000 Hrs.
Body Material : Pressure Die Casted Aluminium
I.P. Rating : Ip65
Led Make : Havell's, Philips, Surya, Bajaj, Hallonix
---
Wattage :5 to 30 Watt
Input Voltage : 220 V AC
Frequency : 50 ~ 60 Hz.
Power Factor : >0.9
Power Eff. : >85%
Led Luminous Eff. : >110 Lm/ Watt
Working Life : > 50000 Hrs.
Body Material : Pressure Die Casted Aluminium
I.P. Rating : Ip65
Led Make : Havell's, Philips, Surya, Bajaj, Hallonix
---
The fitting made of stainless steel with slow heat conducting, must be installed underwater.
Excellent design of het-conducting housing.  
When applied to the fountain or water dance show. The water pole and light beam can perform simultaneously.
With the centered water exit hole. The light creates a 360 degree illumination of the water pole.
Available in WH, WWH, red green blue and rgb.
---
Lamp Wattage : 5 To 26 Watt Input Voltage : 220 V AC Frequency : 50 ~ 60 Hz. Power Factor : >0.9 Power Eff. : >85% Led Make : Havell's, Philips, Surya, Bajaj, Hallonix I.P. Rating : Ip65 Black finish Bulb Type : LED Body material : die-cast aluminum construction Glass material : Clear Plastic With Frosted Internal Diffuser Part of the LED landscape Collection
---
Colour : Warm White/White/ MultiColour/ Blue.
Fixture Features : It is widely used in Home Decoration, Outdoor Project, Hotel, Office Building, Ads Box, Showcase, Shopping Mall, Store. Festivals / Diwali Decoration / Christmas / New Year / Home Decoration / In-Door / Out- Door/ False Ceiling / Kids Room / Shop/ Hotel & Restaurant/ Balcony/ Pool Side/ Boundary Wall etc. 
Type of Bulb : LED
Remote : Optional